Let's Go Dental!
Start your new dental career today!
Welcome to Let's Go Dental! Now Hiring!
We have various dental positions available in El Paso, TX
Let's Go Dental! is a job portal for dental professionals in the Southwest region. We are focused on getting you placed in the right dental position, with the right team, and in the right office. We are currently hiring for various dental positions. Below are the reasons why you should choose us to work for as a dental professional in El Paso.
Group Collaboration
All our locations share in group collaborations for cases & mentoring. This gives all of our employees a sense of support and teamwork, which translates to a better patient experience.
​400K+ Earning Potential
We have Dental Professionals making upwards of 400K per year in salaries.
​Cutting Edge Technology
Our offices contain the most elite cutting-edge technology in the field today such as the ConeBeam & Itero 3D digital scanners.
Continued Education
We offer In-House Continued education courses for all of our Dental Employees. We also offer up to $5,000 bonuses for continued Education outside of our organization.
Health Benefits
Joining our team means you have access to some great health benefits for you and your family.
Company Culture
Let's Go Dental can place you in an office in El Paso, TX that suits you and your way of life. Our employee retention rates are high because we care about you.
What it means to work with Let's Go Dental!
Take it from our current employees.
"Let's Go Dental! has been a very positive company in my dental career since it has allowed me to expand my skills and grow as a dental professional in all areas of dentistry and has allowed me to provide the best dental care for my patients. The staff in my office has been very supportive in helping my patients get the means to do the dental work they need and has allowed me to offer the best quality care for my patients." – Dr. C. 
---
"Working for Let's Go Dental has impacted my life in such a positive way. Working with some of the best people and just learning from each and every one of them has helped me grow. I have created good relationships with everyone from management to all the office staff.
The benefits of working for Lets Go Dental for me are they treat you with respect, they respect all of us and our lives even outside work. They also offer great opportunities to grow within the company and training. The actual benefits like dental benefits, medical, and PTO are also great benefits to have.
I like living in El Paso because the weather is always great, there are a variety of different ethnicities, and the culture and the people are very nice and welcoming.
I love our patients and getting to know them on a personal level. I like to create a relationship with all of our patients so that they always feel comfortable and that we care about them."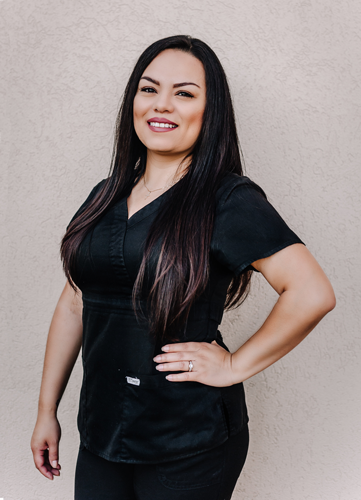 We have a wide variety of dental positions that should be filled by you!
We Have the Best Patients & Employees In the World
El Paso is a great population to work with. The patients are always kind, sincere, and grateful for the dental work you provide. El Paso is known for its close-knit communities and strong family values. Plus there is no HMO and very little Medicaid.